Outline
3-dimensional wafer-level-packaging (WLP) is the most suitable for miniaturizing semiconductor devices. It also can improve the high-frequency properties of the devices with the metal via.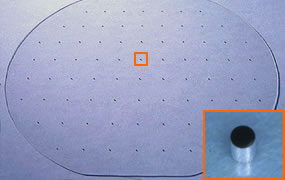 Features
Through glass via makes it possible to minimize devices
Anodic bonding with a silicon wafer is available
Non-adhesive process can solve the out-gas issue
Excellent high-frequency properties, ideal for RF application
Low stray capacitance compared with TSV
Low inductance
Low electric-resistance (due to metal rods)
Suitable for WL-CSP MEMS packaging
Fine via pitch tolerance
Consecutive pitch <±20μm/φ200 mm wafer
Consecutive Via pitch <±20μm
Available up to φ200mm wafers
※Please scroll to the side.
Standard specifications
Material
Borofloat 33, SW-YY
Glass size
≦φ200mm
Min. thickness
0.3mm
Min. Via diameter
φ0.15mm
Hole size tolerance
±0.02mm
Max. aspect ratio
1 : 5
Via material
Si、W(Tungsten)
Via hermeticity ( He leak test )
1×10-9 Pa・m3/s
Via-Glass gap
Std.
0μm〜3.0μm
Option 1
0μm〜1.0μm
Option 2
-3.0μm〜0μm
Via shape
Straight
Cavity process
Available
Metallization process
Available
Bump process
Available
Note: These are standard specifications.
In case you have any request for other than the above, please feel free to contact us.
End user market / Applications
AV/Mobile
RF-switches/relays for mobile devices such as smartphones, portable video games, digital cameras, car navigation systems,
Pressure sensors, Gyroscopes, Acceleration sensors, image sensors
Automotive
Pressure sensors, Acceleration sensors.
Gyroscopes,etc
Semiconductors
RF-MEMS switches.
Image sensors,etc
Biotechnology/Medical
Pressure sensors for medical devices,etc