Frequently Asked Questions
Technology
Can you support trial production?
Yes. First of all, we listen to customer inquiries, and we are working on prototypes and developments in order to realize what we can do. Smooth transition to mass production is also possible.
What materials can you handle?
Processing of metals such as CuW / Kv / Al / Ag / Mo / Cu, glass materials such as quartz, ceramics / sapphire and ultra-high purity silicon materials (single crystal / polycrystal) is possible.
What materials are used for heat sink products?
The table below shows the relationship between thermal conductivity and thermal expansion coefficient. In addition, Cu-AlN-Cu three-layer structure and Cu-Mo-Cu seven-layer structure are commercialized.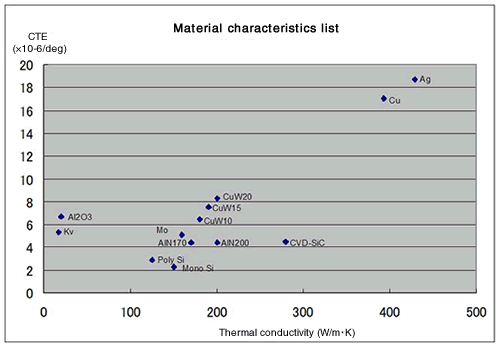 What kind of processing can you do?
Various processing as shown in the table below is possible for metal, glass, ceramic and silicon materials.
※Please scroll to the side.
Processing methods
Material
Dicing
Machining
Sand blast
Etching
Ultrasonic machining
Polishing
Plating
Sputtering
Vapor deposition
Bonding
Metal
◎
◎
—
○
—
◎
◎
◎
◎
◎
Silicon
◎
◎
◎
○
◎
◎
○
◎
◎
◎
Ceramic
◎
◎
◎
—
○
◎
◎
◎
◎
◎
Glass
◎
◎
◎
○
◎
◎
◎
◎
◎
◎
What kind of processing technology are you good at?
We are good at "Cross-edge" technology combining 5 processing technologies of cutting, sharpening, polishing, metallizing and joining, mainly on heat sink products and glass products.
What are the tolerances of processed products?
Depending on the product, we will respond to your request. Please contact us for details.
Do you sell standard products?
Yes. (ex. CAC submount, C mount, F mount, Deep ultraviolet LED cap glass)
General
When was the company established?
Established in February 1970 in Shinagawa-ku, Tokyo as a precision cutting research institute with private investment.
I want to visit, is there a parking lot?
If you contact us in advance, we will prepare it.