Microfluidic-structured heat sink
Standard processing to make channels inside the metal is to first process two parts separately and then bond them together by solder or thermal diffusion. However, our seamless microchannels are processed with our original manufacturing method, which results in a completely seamless structure without bonding layers. This enhances high-pressure resistance inside the channels. Minimum width of the microchannels is 20 μm.

厚み:0.9t Cu一体構造
Products processed by this technology
Assembled parts with metal and insulated ceramic by solder
It is possible to assemble each part with solder, which is processed by our micro machine processing and metallization.
Solder type: AuSn, AuGe, AgCu etc.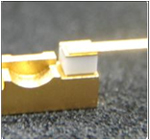 Mounts/carriers


Carriers for optical communication
Products processed by this technology
Cu-Mo-Cu forming into 1.6 mm thickness

This product has seven-layer of Cu and Mo which are formed into a 1.6 mm thickness, leading to the control of CTE less than 8 ppm/K. The two technologies below are applied.
Three-layer forming of central Cu-Mo-Cu by electroforming
Seven-layer forming into the thickness with the three-layer above, bonded by AuSn solder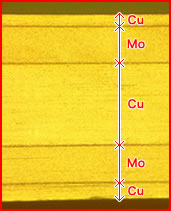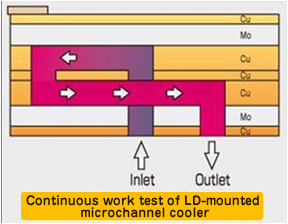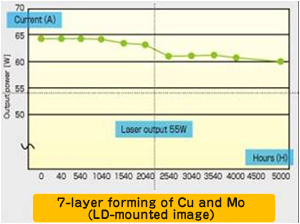 With the technologies above, our customized microchannel cooler with LD-mounted on has achieved 5,000 hour endurance time in a continuous work test.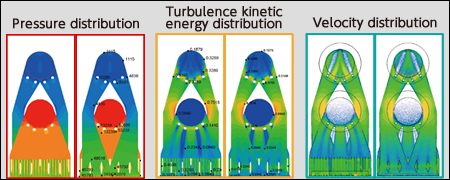 We have optimized pressure distribution, turbulence kinetic energy distribution, and velocity distribution for our standard products by simulating various microchannels on a design stage. Those can be re-designed according to customers' needs.
Products processed by this technology
Conductive-through-metal-via processing
This borosilicate glass wafer has a large number of through-conductive-metal-vias, which gives it electrical conductivity.
The maximum size of wafer is φ 200 mm. Anodic bonding can be applied to seal a silicon device.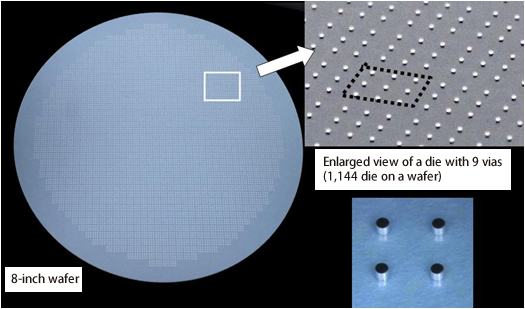 Through glass via(φ0.3mm、10,296 vias)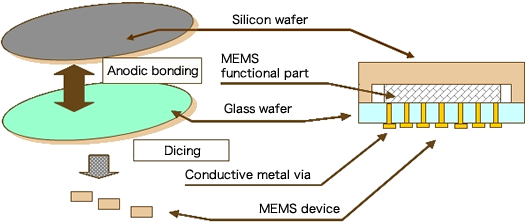 Example applied for RF-MEMS switch
Products processed by this technology
Anodic bonding of glass to silicon
Anodic bonding is the bonding method where heat and voltage are applied to the borosilicate glass and silicon. It can achieve high-quality bonding because adhesive or solder is not used in the process.
Products processed by this technology