Overview
By eliminating the base part, the All-blade core drill composed entirely of whetstone made it possible for longer life of the tool and moreover the extremely thin cutting edge improves processing quality.
Features
All-Blade structure
Possible to reduce the blade thickness compared to electrodeposition tools and sintering tools
Significant improvement in longevity of the tool
Compared with an electrodeposition tool with a single layer of abrasive grains, the entire blade is composed of grindstone, making it possible for the tool life to be several tens of times longer.(※)
Tool life several times longer than sintered tools(※)
※May vary due to processing conditions
Improvement of processing quality
Compared with electrodeposition tools and sintering tools, the blade thickness can be made thinner, resulting in high quality processing with less chipping.
Reduction of processing time
Double core drill enables simultaneous processing of inner and outer diameters, improving quality and shortening processing time
Customization possible according to processing application
Customizable tool size, diamond grain size, etc.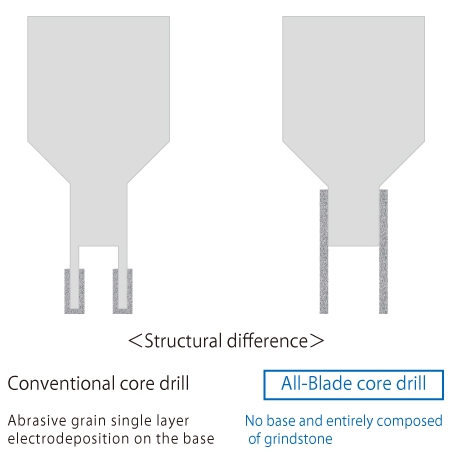 Standard specifications
Single core drill
| | |
| --- | --- |
| Shank diameter(mm) | φ10 or φ20 |
| Tool diameter(mm) | φ4 ~ φ100 |
| Diamond grain size | #400 |
| Blade thickness(mm) | 0.25 |
| Blade length(mm) | 6 |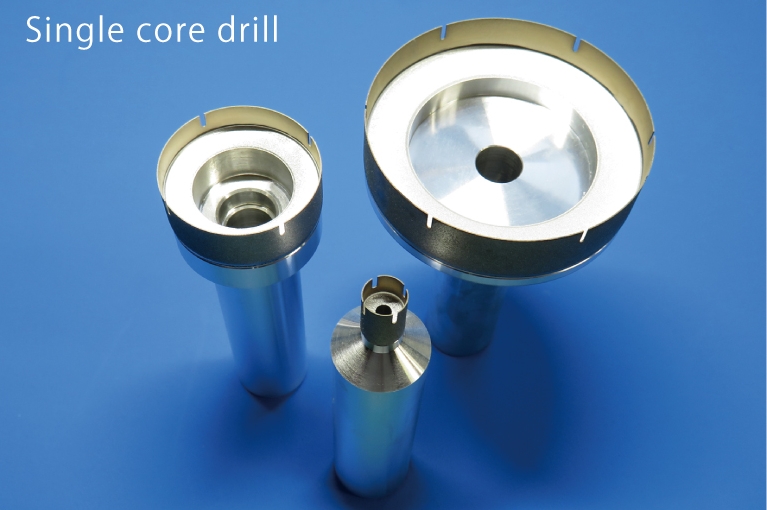 Double core drill
Shank diameter(mm)
outer blade φ20
inner blade φ10
Tool diameter(mm)
outer blade φ16~φ100
inner blade φ4~φ50
Diamond grain size
#400
Blade thickness(mm)
0.25
Blade length(mm)
6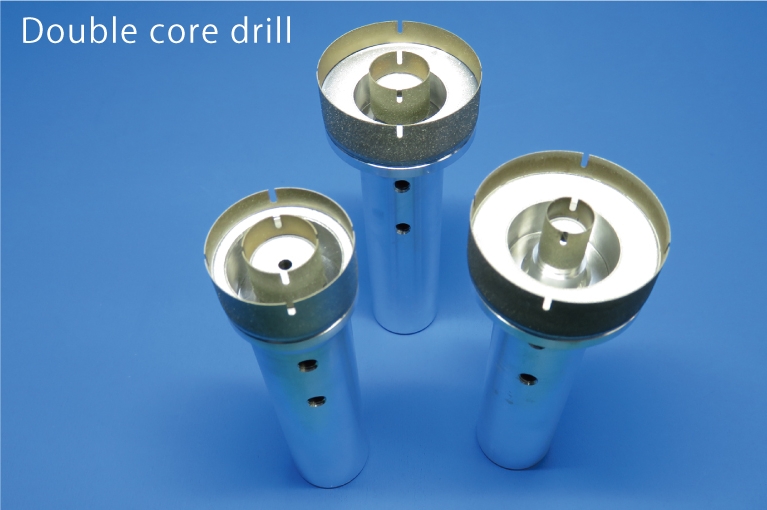 Options
Compatible to customized specifications
Please contact our sales department for specific specifications and requests.




Markets・Applications
Glass rotary encoder processing
Glass disk processing
Coring in various glasses (Round hollow processing)
Coring of ceramics, SiC, composite materials, crystal materials, etc. (Round hollow processing)