Outline
Suitable for multilayer packaging by combining with semiconductor wafers such as MEMS devices.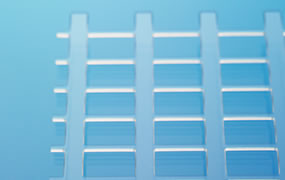 Features

Improve bonding yield with device wafers
Control sagging around the holes
Minimize chipping size
Options
Remove microcracks from machined surface to control the particles
Prevent malfunctions in bonding with MEMS devices
※Please scroll to the side.
Standard specifications
Material
Glass
Glass size
≦φ200mm
Min. thickness
0.15mm
Thickness tolerance
±0.01mm
Min. hole size
φ0.3mm
Window shape
upon request
Window size tolerance
±0.02mm
Chipping size
≦100μm
Cross-section shape
Straight / Taper / Step
Metallization process
Available
Note: These are standard specifications.
In case you have any request other than these, please feel free to contact us.
End user market / Applications
Projector
Display devices for projectors,etc
Semiconductor
RF-MEMS switches.
Image sensors,etc
AV/Mobile
RF-switches/relays for mobile devices such as smartphones, portable video games, digital cameras, car navigation systems,
Automotive
Pressure sensors, Acceleration sensors.
Gyroscopes,etc
LED,etc
Biotechnology/Medical
Analytical chips for DNA/drug-discovery-screening analyzers,etc
Microreactors for biochemical reaction/electrophoresis analyzers,etc
Bioreactors for chemical sensors, microorganism-detection sensors,etc
Industrial gas-detection sensors,etc